Give Now
Select the method by which you wish to give: choose donate with a credit card now, or select make a pledge:
Option 1: Make a Secure Credit Card Donation
Pledge
Option 2: Make a Pledge and Receive a Reminder
If you prefer to donate by mail, we will mail you a form for use with a credit card or you may send in your check.
Information about SSL encryption and secure transactions. Read about our privacy policy.
WMUK Member Card
Members contributing $120 or more can receive 2-for-1 savings at 130+ Restaurants, Performances and Attractions! Read More...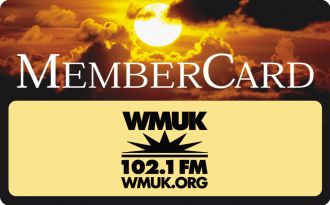 Donate Your Vehicle